JESMINA GIZMO Kasiterit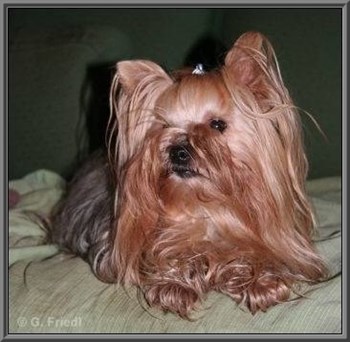 Those special memories of you will always bring a smile.
If only I could have you back for just a little while.
Then we could sit and talk again just like we used to do,
you always meant so very much and always will do too.
The fact that you're no longer here will always cause me pain,
but you're forever in my heart until we meet again .....
---
October 25, 1998 - November 2, 2012
Sire: Champ. ITAR SACRAE Scarabeus (Champion Slovakia)
Sire: Fresia FILIA
Three years long we could watch the Yorkshire Terrier at our friend Monika in Slovakia, and also see who they were raised together with the Briards of Monika. These Yorkshire Terrier disproved all character nature which we had experienced, and proved that the breed was not a lapdog. When in December 1998 we visited Monika with our Swedish friend Inger, she just had a litter being six weeks old, and one girl was still available. Monika had no doubt to give us this girl, and she also agreed that she would immediately take her back in case there were problems because our Briards were not used to small breeds.
On December 24, 1998, the little princess Gizmo (JESMINA GIZMO Kasiterit) moved here at the age of eight weeks and within a few minutes managed to take the heats of all Briards here by storm. In particular Samson was very enthusiastic about this tiny dog. He adopted her and behaved as if he was her mother. Gizmo was quite taken and enjoyed the love and affection, but also showed uninhibitedly whe she had enough - and this was accepted by all Briards.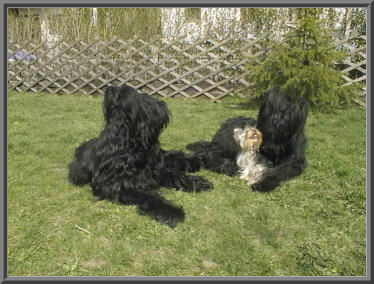 Three years long Gizmo was in the office, from beginning on. She, too - as already Sándor - was socialized excellently with the trips by public conveyance, the amount of traffic noise and the masses of people in the city. And in the office she was spoilt enormously, and enjoyed it to the full.
Although Gizmo turned to be a most beautiful girl according to standard, she was never shown. Everything going on around Yorkies at the dog shows was what we wanted to spare her and us.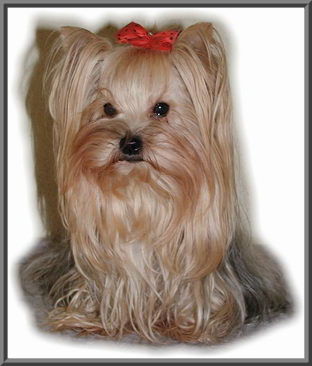 As lots of people were thrilled about Gizmo, an indescribable personality, there were inquiries for puppies. Without pedigrees there was the one and only litter of Gizmo on July 17, 2004, after the boy LITTLE FLUMMY Kasiterit: 4 puppies (3/1) were born with Cesarean section (Amaretto, Armagnac, Asti Spumante and Absinth). Because Gizmo would always need a Cesarean section, according to the operating veterinary, we also had her spayed. Her puppies were raised in an exemplary manner by Gizmo, and it was an adventure to see how the puppies grew up amongst a Briard pack.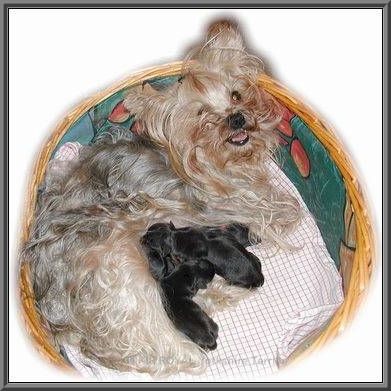 All those who had wanted a puppy from Gizmo, all of a sudden had no more interest, and all those who phoned because of advertisement, either wanted a toy or a gift for a kid that came to school or a try if a dog could be their family member or two puppies for the price of one. So the four Gizmo children remained to stay here and turned to be grown up Yorkies with the Briards and their mother. In spring 2007 an acquaintance, who also breeds Yorkies without pedigrees, was interested in a son of Gizmo. As the four had never ever been parted and actually had not learned much about the world outside of their area, we only wanted to place them in twos, and so the acquaintance took both the boys Armagnac and Asti Spumante, and here are since then only Amaretto and Absinth, who together with their mother have a lighthearted life - in the middle of our Briard and Chinese Crested packs.
With a heavy heart we had to say goodbye to Gizmo and let her go over the Rainbow Bridge on November 2, 2012, at the age of 14 years and 8 days. Another piece of our heart is broken but the memories we have from all the wonderful years will give us a little bit of comfort and will be carried in our hearts forever.
Thank you Gizmo for having been owned by you for nearly 1.5 decade and thank you for all the love you gave us ...... you'll NEVER be forgotten!
---
Gizmo's special success:
07/17/2004 - Gizmo has 4 puppies